Hospitals In Focus with Chip Kahn
Hospitals In Focus with Chip Kahn is a podcast series from the Federation of American Hospitals. This podcast shines a light on everything hospitals; from the advancements in patient care to how a hospital benefits its community. FAH President and CEO, Chip Kahn explores with experts in the field topics like using big data to save lives and how hospitals prepare for disasters.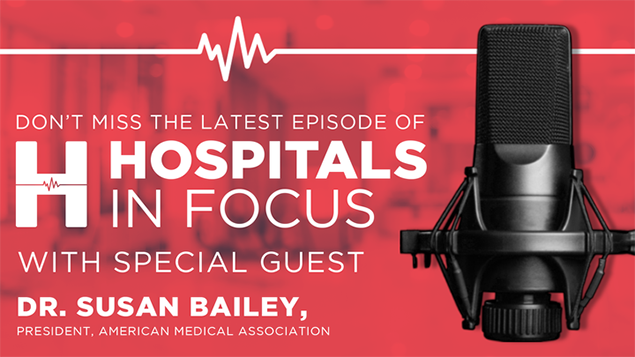 Surviving COVID: How Physicians are Providing Vital Care and Keeping Practices Open
Patients often form strong and long-lasting bonds with their care providers and COVID-19 has drastically altered that ever-important doctor-patient relationship. Visits have moved online and fear of the virus has some patients skipping care altogether. This raises three concerning questions for physicians: how are patients with chronic diseases managing their treatment without regular in-person care; are patients putting their lives at risk unnecessarily by delaying care and screenings; and how will their practices survive through the pandemic so they can continue caring for their communities? Dr. Susan Bailey, president of the American Medical Association, and a practicing allergist/immunologist, joined Chip to discuss how private physician practices have been handling COVID while caring for their patients and how Congress is helping.