General Michael V. Hayden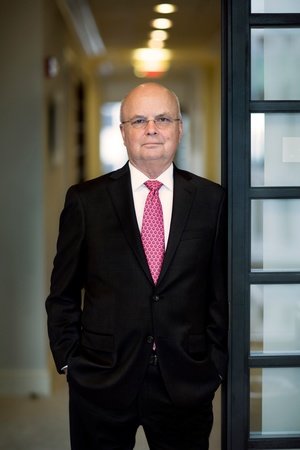 Keynote Speaker:
General Michael V. Hayden
Former Director of the Central Intelligence Agency
Former Director of the National Security Agency
GENERAL MICHAEL V. HAYDEN, former Director of the Central Intelligence Agency. Before becoming Director of CIA, General Hayden served as the country's first Principal Deputy Director of National Intelligence –and was the highest-ranking intelligence officer in the armed forces. Earlier, he served as Director of the National Security Agency. Currently, he serves as a principal at The Chertoff Group, a security and risk management advisory firm, and as a Distinguished Visiting Professor at George Mason University. In 2014 he was the inaugural Humanitas Visiting Professor in Intelligence Studies at Oxford University in the United Kingdom. His recent book, Playing to the Edge: American Intelligence in the Age of Terror, was a New York Times best-seller.
CONGRESSIONAL PLENARY SESSION
Monday, March 5 | 1:30 – 3:45 pm
Marriott Ballroom
U.S. Representative Kyrsten Sinema (D-AZ)
Chief Deputy Whip for the Minority Whip, Rep Steny Hoyer
CONGRESSIONAL PANEL with LUNCH
Tuesday, March 6 | 11:45 am - 1:15 pm
Marriott Ballroom
Charlene MacDonald
Senior Policy Advisor to House Democratic whip Steny Hoyer
Charlene MacDonald serves as Senior Policy Advisor to the House Democratic Whip Steny Hoyer (D-MD), where she oversees health policy in the Congressman's leadership office. Prior to joining the Whip's office, she served as Senior Policy Advisor for Medicare and Social Security for the Senate Budget Committee. Charlene also previously served as Deputy Chief of Staff to Rep. Allyson Schwartz (D-PA), directing Rep. Schwartz's policy operations and advising her on legislative and regulatory issues in health policy, including Medicare payment systems and implementation of health care reform. Before serving the Senate and Congress, Charlene Vice President of Government Relations for the American Clinical Laboratory Association and was Senior Congressional Lobbyist for the American Osteopathic Association. She holds an undergraduate degree in political science and sociology from Lake Forest College and a Master of Public Policy degree from the John F. Kennedy School of Government at Harvard University.
Josh Trent
Deputy Chief Counsel, Health Subcommittee,
House Energy and Commerce Committee
Josh serves as Deputy Chief Counsel for the Health Subcommittee of the Energy and Commerce Committee in the U.S. House of Representatives. In this role, Josh aids the Chief Counsel, Chairmen, and Committee Members in helping oversee and direct policy development, oversight, and legislative efforts related to federal health care programs including Medicare, Medicaid, the Affordable Care Act, and other policy areas of the Public Health Service Act. He is directly responsible for an entitlement reform policy portfolio which includes Medicare Advantage and Medicaid. Josh has been integral in developing numerous Medicaid and Medicare Advantage bills which have passed the House with strong bipartisan support.
Mr. Trent came to the Committee after serving five years as the health care policy advisor for Sen. Coburn (R-OK). He previously served as the deputy director of the refugee resettlement office at the U.S. Department of Health and Human Services, where he helped manage a team of 100 staff and a $580 million budget. In that role he focused on both operations and policy, such as updating new refugee health screening protocols, developing new staff training procedures, helping facilitate the historic repatriation of American citizens in the 2006 Lebanon crisis. Prior to that Mr. Trent served in the (George W. Bush) White House Office of Presidential Personnel for three years and worked for the Chief of Staff at the Labor Department under Secretary Elaine Chao.
-->